..:: life's a B e A c H ! step lightly into the realm of the unknown. ::..
Quezon - my paradise...ehem...thanks glenny for this pic.
PAHIYAS 2005: May 14-15
It was an unusually hot morning as jen, shawie and i went to meet chix, her family and melvs on our way to Lucban, Quezon. it was my first time to go to the Pahiyas Festival so i didn't have big expectations. i was just basically excited over the prospect of going some place i've never been to before.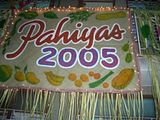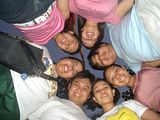 this is us: jen, chix, melvs, me, shawie, mike and macel

we took some time resting after arriving at chix's house (it was sweltering hot outside!). her family made sure that we never went hungry during our whole stay there. despite the house being full of other visitors, our little group always had the first dibs at the feast spread on the buffet table. wasn't that sweet? :)
come 4:00, we were ready to go out and explore the world of Lucban. Off the top of our list is Pansit Hab-Hab, whose name we murdered so much that karma decided to take over and made sure we exhaust ourselves first before finally getting our hands on it. hehehe.
panalo naman talaga ang mga pangalan na binigay namin sa pansit na ito. see, me, macel and melvs all had different names for it:
Me:
Pansit Hap-Hap
(one hap pansit and one hap pansit nga po...)
Macel:
Pansit Had-Had
(hahahaha. ewww? well at least katunog diba? check out what Melvs calls it...)
Melvs:
Pansit LUB-LUB
(eh???)
we started walking towards the church and took some pictures. and then, because we refused to eat before leaving the house (because we were saving our appetites), we were ravenous as we walked from one street to another looking for the infamous Pansit Hab-Hab. and you'd think chix, having spent most of her childhood vacations in Lucban would know where to buy it right? but noooooo! i swear, we looked everywhere but could not see one store that sells pansit served in a banana leaf with no fork. we couldn't take it anymore, so we decided to stop by this famous place that sells the best (or so they say) halo-halo. looking back now, i'd say i really did eat a tall glass of real good halo-halo. we would have been more appreciative, if only our mouths weren't watering and our taste buds screaming for pansit hab-hab and pansit hab-hab alone. hehe. we finished off our halo-halos and mais con yelos and then went back to hunting. 6:00 came and the sun was already setting as well as our hopes of ever finding the elusive pansit. we passed by the Plaza and debated whether we should go on to the next agenda (which is the grotto) or keep on looking for the pansit...
and then there it was. i don't remember exactly who saw it first. but imagine our delight when we found carts and carts of Pansit Hab-Hab in the Plaza! and what's more, they're giving it out for FREE! how cool is that? hehehe. it turns out they have a contest for the best pansit hab-hab. they had these adorable sidecars decked with vegetables, anahaw, and kiping among others. they were so colorful and creative and the fun is just starting. i was sooo happy!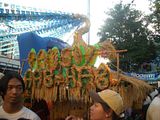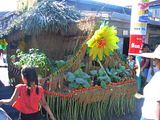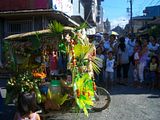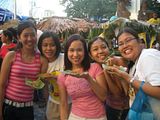 look at our smiles at finally getting the fruit of our massive hunt for the pansit hab-hab

we washed our food down with ice cold coke and off we trekked to the grotto. and i'm not exaggerating when i say TREK. you really have to literally take a hike up the grotto if you want to get to the top. you see, this place used to be a mountain standing beside the church (or chapel? it's too small to be a church). and then some really bored Lucban people decided that they want to change the sceneries and make a holy place out of this mountain. from the bottom, there are stations of the cross going up. at the top of the grotto is a gigantic statue of Jesus Christ decked in red and white robes that the people can see from miles and miles away.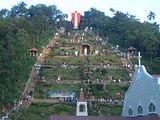 check it out. that's a steep climb isn't it? took us more than an hour because we went from one side to the other so we can pass by all the stations of the cross.

the breathtaking view of the sunset and the roads and houses below more than made up for the exhaustion when we reached the top.
we went home to eat and rest a bit. come 10:30PM, we were out on the prowl again. this time, our goal was houses. we wanted to see the transformation of houses - from plain, normal looking houses to colorful, lively ones. as we turned into the first street, we were struck with awe at the picturesque view. it looked like something straight out of a painting - only, with people actually moving around. on the sidewalks were coconut leaves(?) and actual coconut branches. and then there were lots and lots of different kinds of vegetables waiting to adorn the walls of the houses. and of course, there were the vibrant-colored kipings. some houses looked better at night. others bloomed when the sun is out. but all of them are beautiful nonetheless. here are some of the houses i liked. :)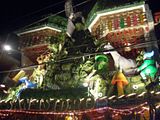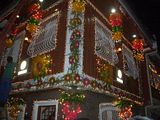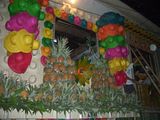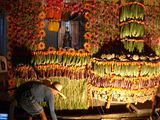 i loved those hats! and nope, that is not a statue on the other pic. hehe. that's an actual living person trying to arrange them vegetables.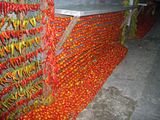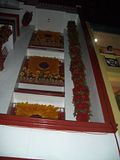 funny: chix and her mom wanted to buy tomatoes for breakfast. but when they got to the store, the owner won't sell them. kasi daw ilalagay pa nila sa pahiyas. hehehe. those tomatoes on the left pic are fresh, firm tomatoes, i tell you. and there are crates and crates of them right outside the house!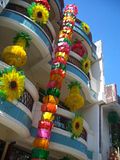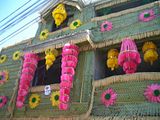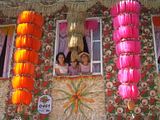 and presenting, our favorite house. :) you can't see it, but beside the green and red kiping are dozens of coconut halves (the coconut meat still in it), with tomatoes stuck in the middle. and then that flower under the window is made from corn (the yellow part) and sitaw and siling labuyo (the green part). this flower is set on top of corn husk. :) galing no? very creative! loved it!
i thoroughly enjoyed this trip, and vowed to go to more fiestas this year. :) i would LOVE to go to the Maskara Festival in Bacolod...nuninuninu...