..:: life's a B e A c H ! step lightly into the realm of the unknown. ::..
Quezon - my paradise...ehem...thanks glenny for this pic.
ang christmas tree...bow.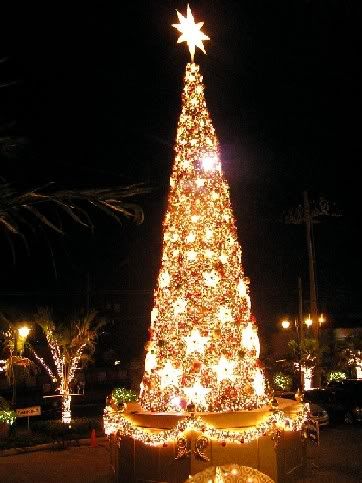 anyone who passes by south super highway at night has probably already seen this christmas tree in front of the newly opened Figaro and Dencio's somewhere in Sucat.
isn't it such a beauty???
twinkling lights especially during christmas season fascinate me. and this giant christmas tree, in all it's red and gold glory captured my heart. hehe. who cares if it's kinda out of the way? who cares if there are 2 Dencio's restaurants right here in Makati, one of which, a 10-minute walk from our office? Baket, may Christmas Tree ba don na sing ganda nito? :)
admittedly, our little group went there more for the change in ambiance than the food. despite it being situated right beside the highway, we (or is it just me?) still felt transported somewhere magical while hanging out, taking pictures, and dancing like idiots in front of this tree. heehee.
it was another classic night. syempre matapos ang kataku-takot na reminder the previous week of this
scheduled
"christmas dinner" with lu, we still ended up working overtime til 8:30 (that's why we were almost ravenous when we got there), rhea almost didn't make it, while lu, due to issues at work, wasn't able to come at all. o diba, partida. scheduled po itong lakad na ito. hehehe. we ended up having dinner at 10PM because we had to wait to be seated plus the service was super tagal (i swear). it was good thing though we were all in a good mood despite being starved to death that we didn't mind at all when we asked for extra sinigang na baboy soup, and about 30 minutes and 4 follow-ups later, the waiter ended up giving us soup for nilagang baka which we realized only after marlette has already poured it into our bowls which of course, already had left over sinigang soup, vegetables and meat on it.
and because of that incident, the name was coined: tropang niligang na baboy sa baka.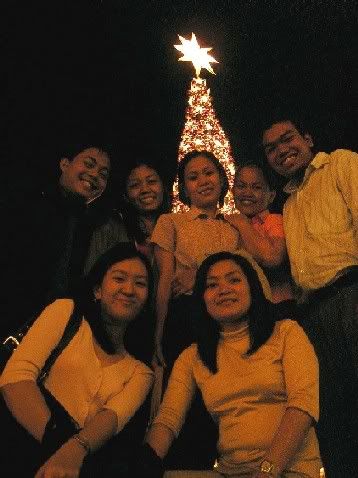 here we are. :)
(top)glenn, me, shawie, lette and JT. (bottom) jen and rhea
************
despite the lousy service, four days later, the day after Christmas, i went back there with my HS friends for our Christmas gathering naman. obvious ba i so loved the tree? hehehe.
************
and well...speaking of Christmas, you probably noticed i haven't blogged much about it. that's because there isn't much to tell. i must admit this hasn't been one of my best Christmases what with all that has happened this year. hopefully next year i'll be able to recapture the spirit of Christmas again. :)
************
one thing i was looking forward about Christmas though is the Ayala center fireworks display every weekend. so see, aside from twinkling lights, am also fascinated with fireworks...and bubbles...and sunsets...and the stars and the galaxy...and beaches...but i digress.
anyways, this year, as i watched the fireworks in Greenbelt, i can't help but feel sad each time as i remember who i used to watch it with every year for the past years. we used to go to ATC a lot on weekends to catch the fireworks there at 7PM to the point that we can already tell which fireworks are new, which one was removed, which one we liked best, etc.
sometime on the 3rd(?) or 4th(?) display i watched this year, as i was on the verge of forever swearing it off because of the little painful memories that still sting my heart, i came up with a resolve:
i have to build new memories with the fireworks again.
Just like what i did with the beach, and the places we used to go to, and the food we used to eat...
it just seems harder to do with this particular memory because you know it's Christmas, and it's supposed to be the closest holiday to your heart. but i swear am gonna do it and hopefully next year, my Christmas won't be tainted by as much (though not too much) pain anymore.
************
i've been watching a lot of news on the tsunami that hit south east asia last weekend. and i just can't help but wonder, what cruel fate would bestow such tragedy on a Christmas weekend, of all weekends? not that other weekends would justify such catastrophe. pero diba? it's Christmas! am sure families of the 33,000 people (as of this time pa lang yun, and expected to go up pa) that perished would never look at Christmas the same way again. it's just so, so sad. :(
and though am not belittling their loss, am also thankful that the one person i know who
could
be in India or Thailand last weekend, wasn't there. Or was he? I didn't check. But God, i hope not.
my really selfish, really really impossible christmas wishlist
you know those times when you go to the mall, and you see a lot of these really neat, nice-to-have stuff that you would want to have but you don't buy because you think you don't really need it and you'd rather spend your money on a book or food or pasalubong or something else? and then you say you'll just buy it next time, if you have more money or if you did something really good and you want to reward yourself or if by some sort of a miracle someone decides to give you money that you can spend any way you want? hmm...
enter the wishlist for the exchange gifts on your Christmas Party come Dec. 9. you think, recollect, rack your brains and try to summon up all of those really neat, nice-to-have-stuff you saw in the mall. but you can't remember a
single
,
solitary
thing you want to have for 400 bucks. and then suddenly, all these really crazy, totally expensive, and absolutely impossible wishes start popping into your head.
it's kinda frustrating. so i've decided to write them all down (and update this post each time i think of more)
here goes...
1. this really nice planner from Starbucks i've been coveting since last year, which you can't buy, but you can have if you manage to get 21 (or 22?) stamps on your card before January 3. (hmm...a frappe or a tea a day? not too impossible naman pala.)
2. an all expense paid one week trip to Boracay or Palawan (or any island in the Philippines) -- every month of 2005 for me and 4 of my friends. (so that would be 12 all expense paid one week trips. teehee.)
3. a nice car and a faithful driver who will not make me feel guilty for making him wait while am out gallivanting with friends until the wee hours of the morning.
4. a fully furnished condo unit in Makati overlooking a body of water on one side (Manila Bay?) and the Rockwell area on another side.
5. a prospective The One who will look after me, and take care of me, and will patiently wait until am ready to love again. (toldya, it's a selfish wishlist. tsk. tsk.)