..:: life's a B e A c H ! step lightly into the realm of the unknown. ::..
Quezon - my paradise...ehem...thanks glenny for this pic.
Distinctly Galera - Apr 30 to May 2.
10-hr travel.
We left the Buendia terminal at around 5:30 AM and arrived in White Beach Puerto galera at 3:30 PM. Why did it take us that long? You might ask. It's because we made a mistake of boarding a RORO bound to Calapan that leaves at 9:30AM rather than wait for the ferry going straight to White Beach at 12NN. And of course none of us idiots knew that it takes 3 hrs to travel from Calapan to White Beach. hehehe. I had fun though. We saw more of Mindoro on the way. And we stopped by this pretty view and was able to take pictures.
zinni, jen, jt, me, lette and irene
Reservations! Reservations!
And because we thought we weren't pursuing this trip, we cancelled our reservation at the last minute...and ended up having to spend the rest of our afternoon looking for a place to stay. Finally before sunset, with our patience stretched to the very limits, we settled into our crib for the night. It was cool though. We slept so well that we woke up all refreshed and ready for the day ahead.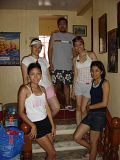 People, People, Everywhere.
OK. so it was a long weekend. but i didn't expect the beach area to look like a mob hit it. the ferries were carrying throngs and throngs of people nonstop! modern day exodus yata ito. next time, maybe i'll spread out my beach trips over the year. never only during summers. nasstress ako instead of being relaxed.
Dancer-Flasher.
On Saturday night, because we were too tired to drink and try out the Mindoro Sling, we contented ourselves with just hanging out at the beach (we couldn't stand staying in this table we originally snagged for dinner because they had the speakers blaring at our faces). At around midnight, we were watching this girl at a bar who was dancing (she's a great dancer and she's really voluptuous) wearing a bikini top and denim shorts. Either she was really drunk or was totally drugged, but when the people's call to "take it off! take it off!" got louder, she finally gave in. at first it was just flashes of her boobs. and then she'd pull at her bikini top for a little while longer...and longer...and longer. she even posed for the camera showing off her boobs! and then it was her shorts. she danced at the pole showing off her black thongs and butt. it made for good entertainment for a while until i felt things were starting to get out of hand. the tanods came to her rescue and stopped the show to the disappointment of the audience. i was actually relieved that nobody from the crowd dared touch her while she was dancing-flashing. can you just imagine how many drunken men are out there that time?
Dead Corals.
had it been only a year ago when i raved about how beautiful the corals were in galera? snorkeling was the one thing i was looking forward to in our trip. and i was severely disappointed to see dead and
destroyed
corals in the famed coral garden. the colorful plants and anemones that made the underwater world so alive in galera are almost gone. yes there were still lots of fishes, but am guessing they were only staying because they're already used to people feeding them. it was so so sad. i didn't last an hour (or maybe i did). but the waves got me (and the lack of excitement) and made me dizzy so i had to rest by the boat.
A Lot of Back Shots.
I don't know why. Maybe our faces aren't worth gracing Irene's digicam but...i noticed that there are more shots of our backs than our faces. hehehe.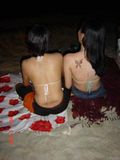 Two bottles of Gin, Lime and Sprite.
was all it took to make a mess out of our drunken little group. hehehe. We should have taken a picture of ourselves after downing those GSM Blues. That way i'd have Before and After shots with the concoction's pic in between.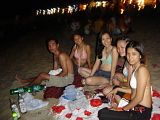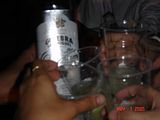 Over-all? I learned that you will only have great fun if you don't let all the stress and pressure overwhelm your trip. That, plus of course, good company who wouldn't let your mood level fall below terrific, and who would pick after your mess and make sure you're safe and warm and tucked up in bed before he falls asleep. :) Thanks JT for taking care of all five of us. hehehe.
How can i blog and not post this pic?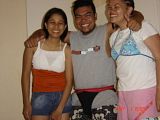 am so sorry guys. it still makes me smile. :) humor me. hihi.