..:: life's a B e A c H ! step lightly into the realm of the unknown. ::..
Quezon - my paradise...ehem...thanks glenny for this pic.
on a lighter side...
i didn't expect it would be this soon...but yes, i've decided am going back to Boracay this summer. yaayyyy! :)
and well...it looks like everything will be all set and paid for before i even get to tell my parents about it - again. hehe.
************
my nephew will be turning two years old next month. his vocabulary is still very limited to
mama, papa, meme,
and a lot of other incoherent one word babble. i've asked a lot of people about this but they said that's normal development for little boys. last time he came for a visit, he ran to me and shouted
"Tita!"
and it's the sweetest sound ever. :)
i am against toys that are remotely related to violence. but after seeing how much he enjoyed playing with our maid's son's toy gun...i finally gave in and bought him one for Christmas, constantly reminding his mom not to let him play with it too much. teehee.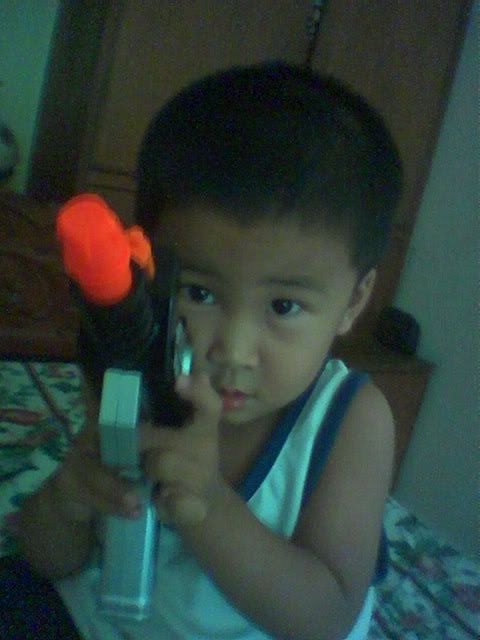 this is jairo striking a pose for tita :)
family arrangement only allow our side of the family to see him at most twice a month. oh what joy it brings every time i discover something new that jairo can do. as of last, whenever you ask him what Nemo said, he would delightfully shout:
"hu-ha-ha!"
(from that part of the movie where they baptized him as sharkbait and kept chanting "sharkbait, hu-ha-ha!")
sigh. my nephew is such a little bundle of joy!
************
another friend (yes, rhea may aquino, that's you) is about to take a huge step for her career. and that means leaving the project, the country, and our happy little group of friends in pursuit of uhrm...greener pastures. and that also means no more impromptu coffee breaks at starbucks the fort at night, no more sleepy kulitan in the afternoon, no more let's-soothe-each-other's-heartache-with-words-of-wisdom bonding til morning, no more senseless talks, no more lunch breaks na kelangan pa ng memo...and a lot of other stuff.
sometimes you just can't help but hate CHANGE.
but rhea, because i love you, i'll pray that this path leads you to a more fulfilling and rewarding job...pero sana hindi mo na ipagbawal umiyak sa bon voyage party mo diba? hehe.
i'll miss you. that isn't so bad an excuse to cry isn't it?
p.s.
dear Lord, sana when rhea gets there, matuto na sya mag-friendster. hahaha. :)