..:: life's a B e A c H ! step lightly into the realm of the unknown. ::..
/* Scrolling Text script- Distributed by http://www.hypergurl.com */
Quezon - my paradise...ehem...thanks glenny for this pic.
visions of the beach bums...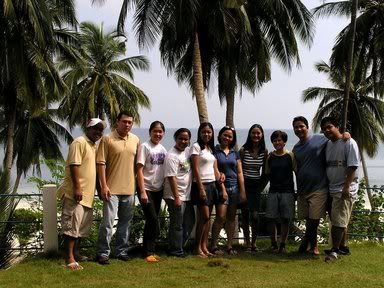 this is the whole group. taken right before we went home.
(from left) JT, Nick, Van, Gem, Me, Lette, Cas, Ruth, Anton and Glenn

they will probably kill me if they knew i posted these pics (am so sorry glenn, i know you will read this. hehe) but i just have to ask...what is it with these fine men and YES! magazine??? the one with the story about kris aquino's grandiose lifestyle pa ha! hahahaha.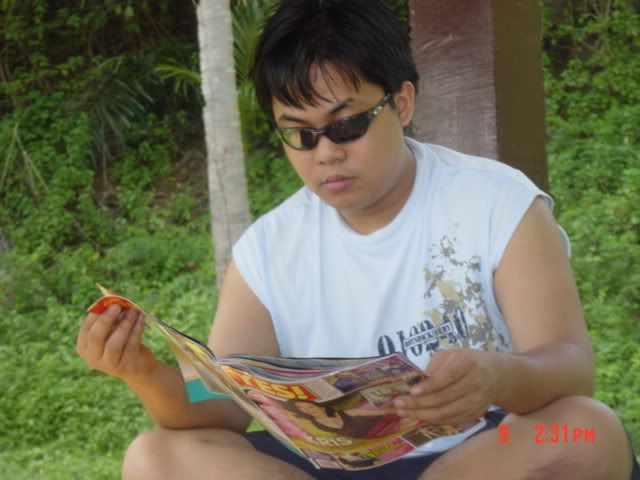 meet the bronze buddha to your left (and i still smile each time i remember his story on how he tanned his underbelly). hehehe. anton loved it when we called him the bronze god while touching his stomach. haha. he brought along this miniature mahjong set and taught all of us how to play it.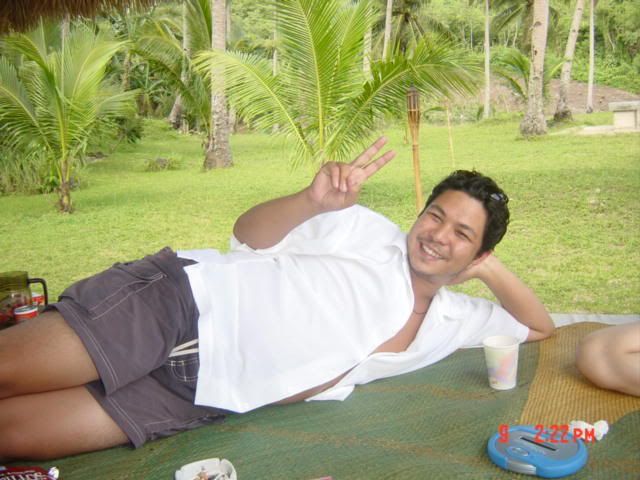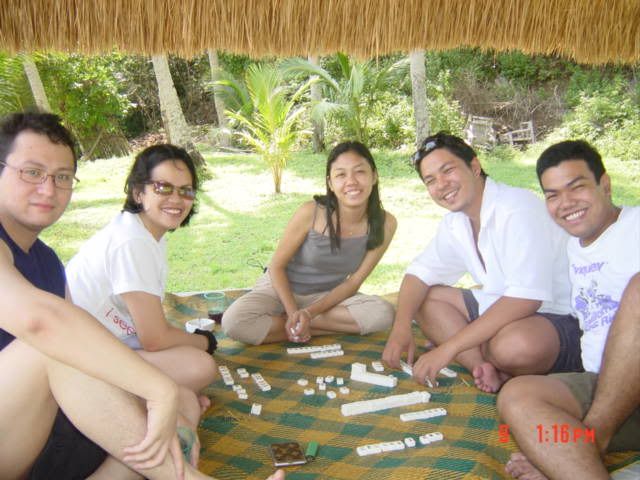 and this is how we were set up during our ummm..drinking sessions. (nakakatawa pa how anton would label each drinking session as afternoon cocktail, sunset cocktail, before lunch cocktail, etc. hay! :) it's just too bad that we weren't able to take a picture of the massive amount of alcohol we brought to quezon (considering there were just 10 of us, 3 of whom do not drink. hehehe.) we had a bottle of tequila and jagermeister, a bottle of mudshake, 2 flavored lambanogs, 5 bottles of rhum, 2 bottles of novellino's red wine (which i so totally loved when mixed with sprite) and a case of san mig light. syempre we didn't consume them all. we had a little left over...mga half the tequila, 1/4 of the lambanog and 7 bottles of san mig light. hehehe. and the nerve of us to call ourselves social drinkers diba??? hahaha.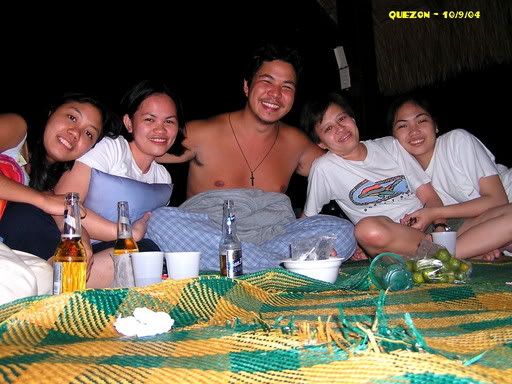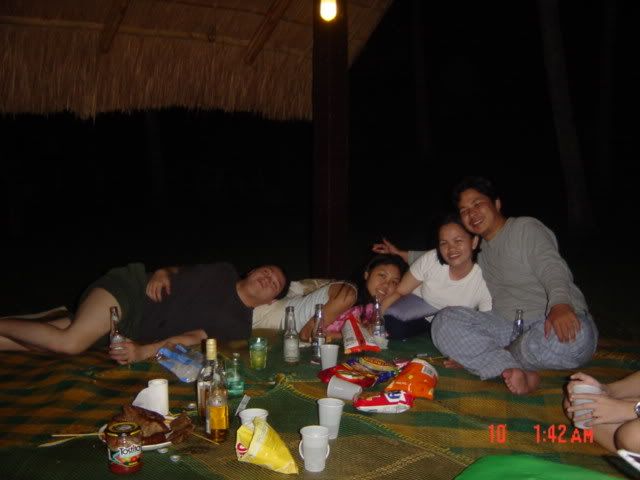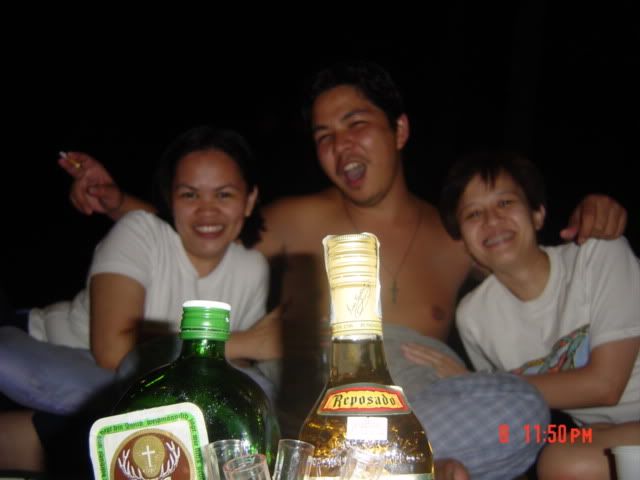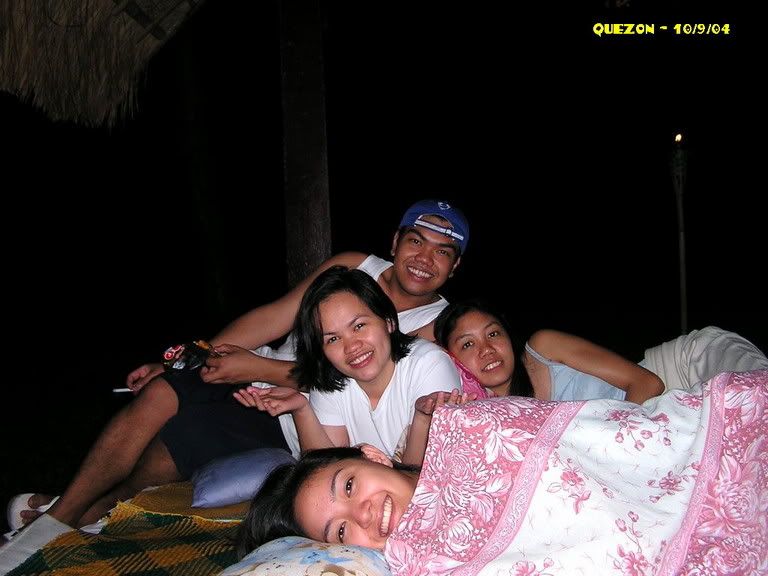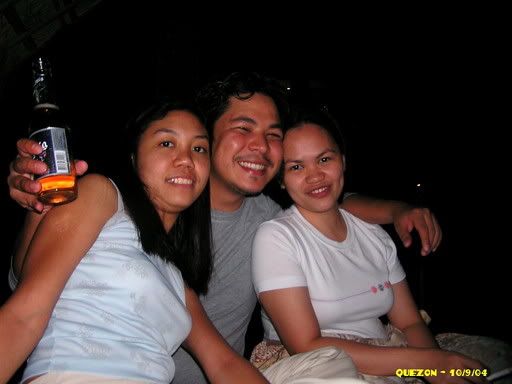 the ihaw group - lette, anton and glenn. (i took this pic while i was lying comfortably - and complaining at that, dahil nauusukan ako at pwede na ko tumilaok - in the hammock. hahaha.)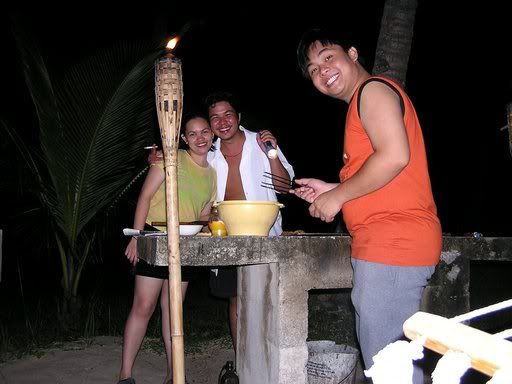 below are pics of me and the gels. :)
(left) cas, me, lette and gem. (right) gem, van, me, lette and cas.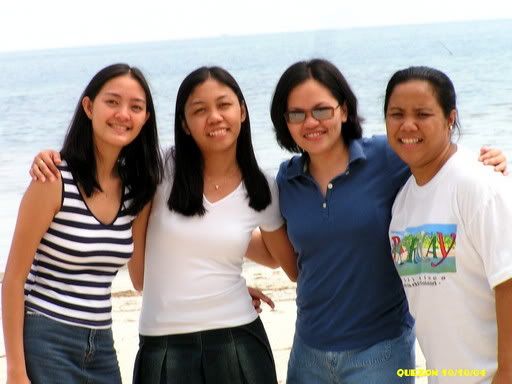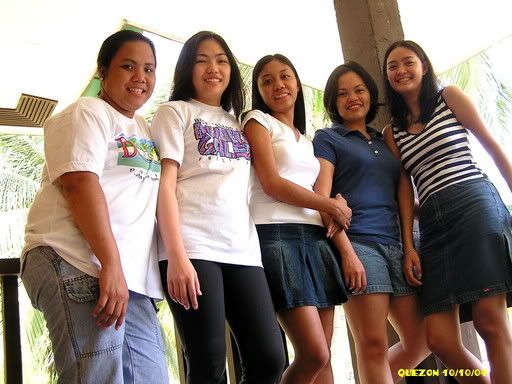 (top) van and me. (bottom) me and lette.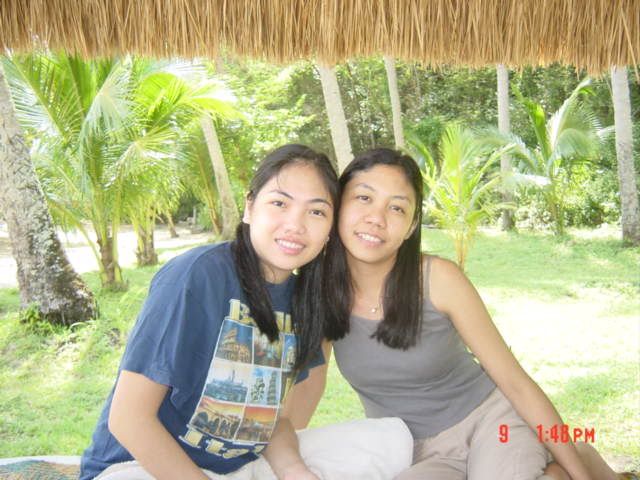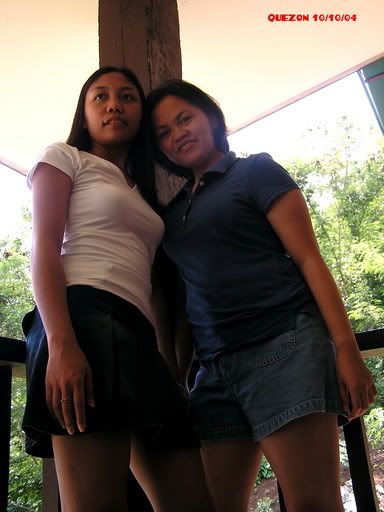 below naman are pics of us being silly while we were waiting for the others to get ready to go home. believe it or not, this series of pictures actually has a story and directors and cameramen behind it. hahaha. go figure what it's all about. one thing i concluded though. am so not made for the camera (it took us 1 million takes to get these 4 shots). sabi ko na nga ba kaya ginawa ako ni lord na programmer eh. hahaha. actors: glenn, lette and me.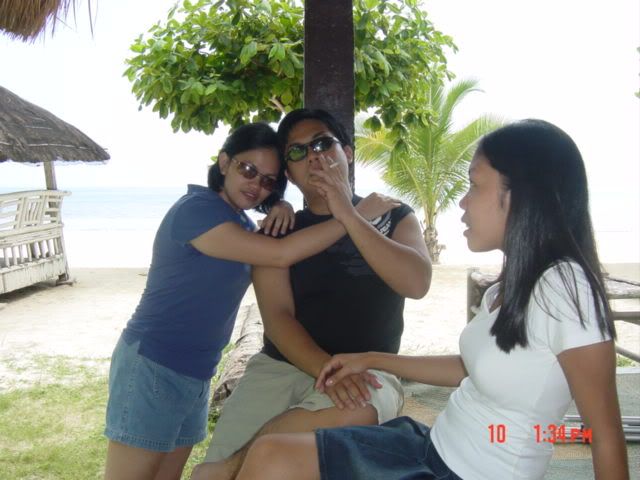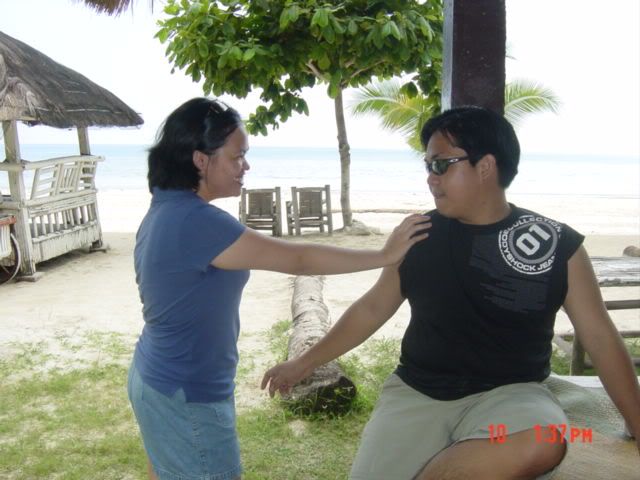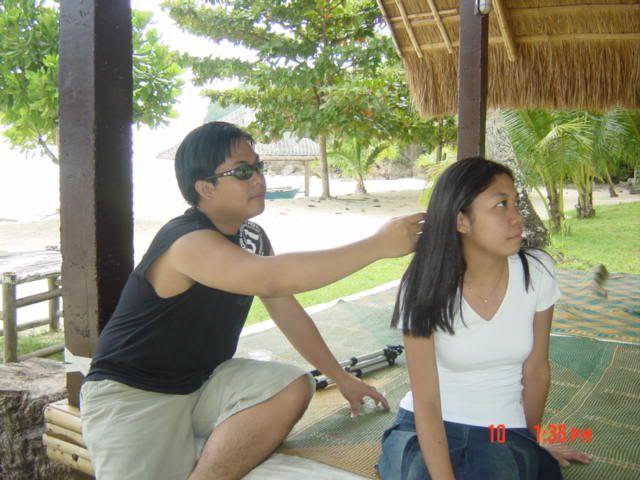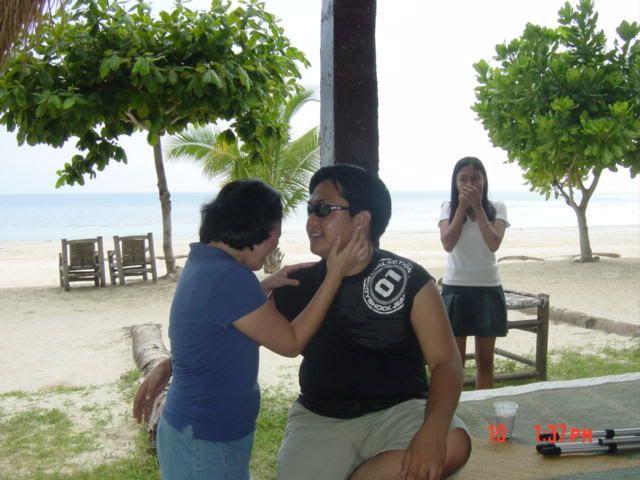 and last. my favorite artistic shots taken by the ultimate photographer glenn. (ayan ha, i gave you credit. libre promote pa sa blog ko. hahahaha.) i love the shot of anton and van. it looks so candid. :) and well, nick looks like juan tamad. hahaha. and glenn looks so lonesome.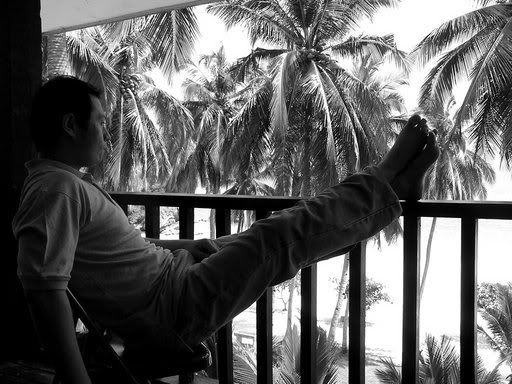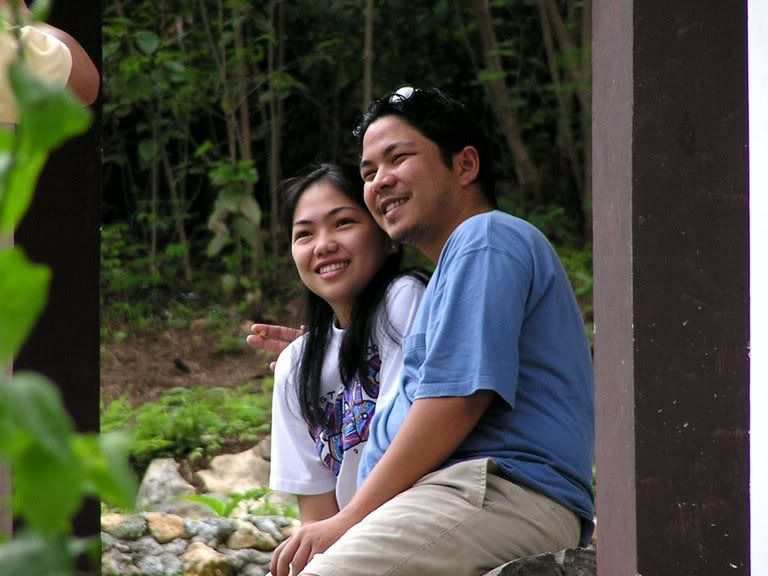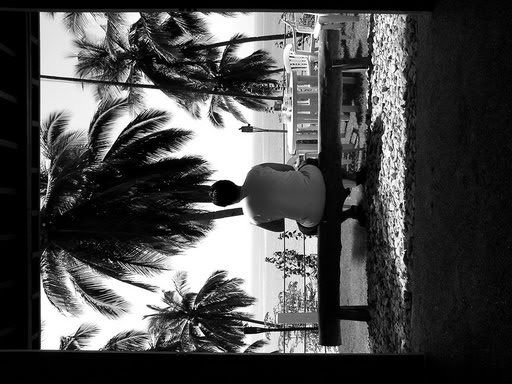 so there. next week i'll probably be posting new beach pictures from our trip to boracay naman. yay!!! :)


...::::::...
i want to be swept off my feet because i know i'm worth it...

...::::::...
..::[this is me :)]::..
AOL:
EMAIL/YM:
..::[links]::..
engrish
fontgarden
greenarcher.net
hypergurl
peyups
photobucket
pinoyexchange
..::[blog hits]::..
ana mae
annie
bern
breakup babe
chona in the city
dyanis
emma
eunice
maan
mecky
nessy's place
niligang bulagspot
odezza
one question
ria ghel
sochie
vida doo
xtiane
..::[archives]::..
2004.03
2004.04
2004.05
2004.06
2004.08
2004.09
2004.10
2004.11
2004.12
2005.01
2005.02
2005.03
2005.04
2005.05
2005.06
2005.07
2005.08
2005.09
2005.10
2006.02
2006.04
2006.05
2007.04
2008.02