..:: life's a B e A c H ! step lightly into the realm of the unknown. ::..
Quezon - my paradise...ehem...thanks glenny for this pic.
April 17.
okay...it was friday and everything was set. We were to wake each other up at 3AM, meet in Ortigas at 4AM and then head to Subic for a day of sight seeing and searching for a nice place for our project teambuilding. jen, chawie and i decided to spend friday night in van's condo, so we won't have to wake up so early and travel to ortigas while all of the world is still asleep.
7PM. ruth asks if we can leave for home already. we can't. still finishing some stuff up. we agree that she and van would go ahead and the rest of us hardworking individuals will just follow.
8PM. chawie still has to go to dinner with a friend. friend is still stuck with work.
8:30PM. chawie's friend finally manages to get off work. and so they go to greenbelt to stuff themselves with plates of pasta and pasta and pasta.
9PM. jen and i realize we haven't eaten dinner yet. we hurriedly dial Wendy's hoping they'll give us mercy and still deliver our forgotten dinner.
9:30PM. Wendy's delivery guy arrives bearing sumptious gifts. hehehe. bacon mushroom melt for me and jen and an extra spaghetti for me (i'm a growing girl, alright.)
10:30PM. m halfway through my bacon mushroom melt when chawie comes barging in demanding we go home. pronto. jen still can't go. so we wait some more.
11:00 ...
11:15. alas! jen is done! we dial all taxi company numbers stored in our celphones to no avail. for some reason we keep getting a busy signal. everyone must have decided to finally go home at this ungodly hour on a friday night, and call the same taxi companies we're trying to call. fine.
11:30. we're on our way home finally. tired and excited for our subic trip.
12AM. chawie opens van's door without even knocking. hihi. ruth and van are sprawled on the floor solving ruth's 2,000-piece monster jigsaw puzzle.
12:10AM. chawie, jen and i sprawl ourselves horizontally on van's bed looking helplessly at the puzzle while trying to coax each other to be the first to take a shower and change for bed.
12:30AM. chawie opens her gift -- Wedding Singer VCD and another one which i'd rather not mention. hehe.
1AM. we decide to watch Wedding Singer since chawie and i haven't watched it yet.
1:15AM. chawie falls asleep.
1:45AM. jen falls asleep.
2AM. van falls asleep.
2:15AM. ruth falls asleep.
2:40AM. movie is done. i get up, turn off the player, the tv and the lights. and tries to go to sleep.
3:30AM. chawie does everything annoying to wake us up. hehehe. we wake the others up via celphone brigade and then take turns taking a bath.
5AM. pal and ella are already waiting outside. out comes chawie and jen. then me. then ruth and van -- carrying a bag, a jacket, and a fluffy pillow. hehe.
and then the start of our 5 hr and half trip to Subic. man...traffic in pampanga was BAADDD!

me, von, ruth and JT on our first stopover in KFC Petron...or was it Shell? or Caltex? hmmm...





this is us bored out of our minds while traversing that loooonnnggg stretch of a two-lane road they pathetically call a highway somewhere in pampanga. (jen in black, chawie in maroon, ruth in orange, pal beside her boyfriend Richard (not seen) who's driving, ella in the passenger seat, JT wearing a cap and von -- the not-so-wholesome one at the back. hehe.)





and of course. the only one who really enjoyed the traffic -- van. haha. (who, by the way didn't mind that we were noisily taking pictures of her blissful sleep)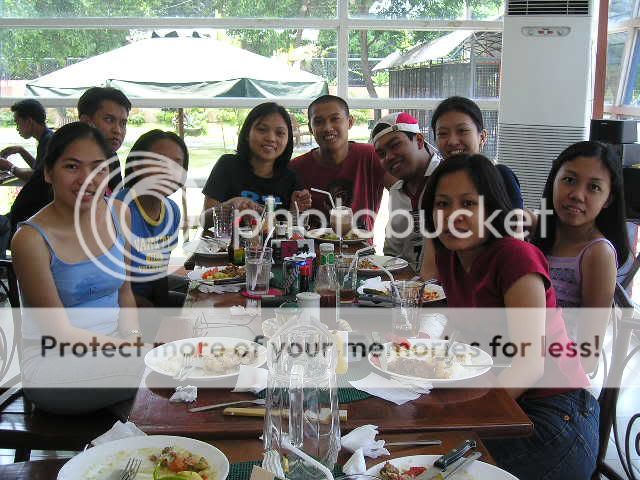 we were totally totally famished come lunch time and we chanced upon this empty, airconditioned place by the roadside. one picture was taken before the orders came in, and the other one taken after we've been fed and watered and satisfied with the yummy meals. now...let's see if you can spot the difference. hehehe.
SALVATORE serves the best marinara pasta! too bad they don't have a branch in manila. :(

i still have some more left over pictures but i'll just post them next time. :) i totally totally enjoyed our subic trip -- the traffic and the sweltering heat notwithstanding. it was the first time i ever felt in my heart that m happy being single. and m glad m doing the things m doing right now. and m excited about all the things i can do in the future. and m blessed i have friends who've done more than offer their shoulders and lend me their ears. :) thank you. thank you. i had a smashing time with you guys last saturday.